BY SHANNON McLAUGHLIN
OF PASCACK PRESS

MAHWAH – U.S. Rep. Josh Gottheimer is ready for his first joint session as the representative for New Jersey's Fifth Congressional District.


Gottheimer announced his guest for the Washington D.C. event, which takes place on Tuesday, Feb. 28. The congressman chose Police Officer Angel Padilla to join him at the joint session of the Senate and House of Representatives, where they will hear from the president.

The congressman said he chose a "true American hero" in Padilla and described the officer as "someone who embodies and exemplifies the very best of New Jersey, the very best of our values, the very best of law enforcement."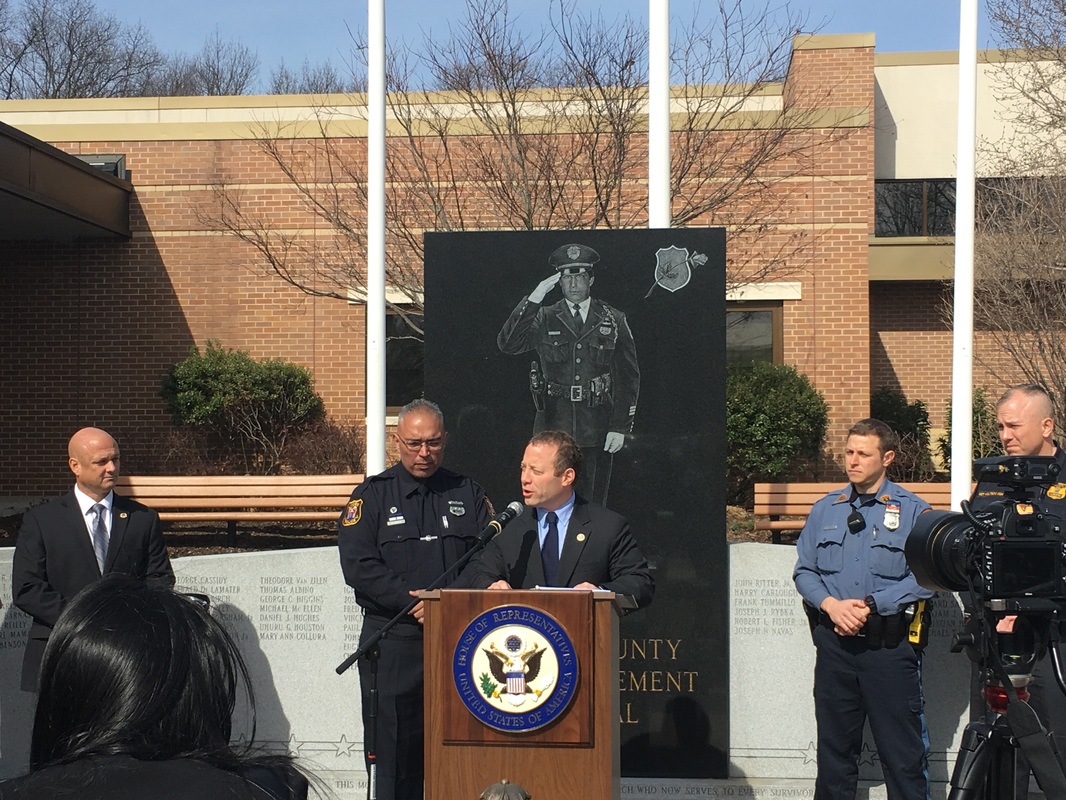 Officer Angel Padilla stands behind U.S. Rep. Josh Gottheimer, while the congressman explains why he invited the officer.
Padilla, who has been with the Linden Police Department for 16 years, gained national attention after apprehending a home-grown terrorist last fall. Along with fellow officers, Padilla captured Ahmad Khan Rahami, who was indicted for a bombing in Chelsea, N.Y. that injured 29 people last September.

Investigators also found an undetonated pressure cooker bomb blocks away from the explosion, along with two pipe bombs in an Elizabeth train station, according to Gottheimer. Rahami worked alone, he said.

Padilla responded to a call shortly after the bombs were discovered, not knowing that he was about to come face-to-face with the suspect.


Padilla responded a suspicious man sleeping in a bar doorway, Gottheimer explained. Padilla then realized it was "the man the nation...was hunting," the congressman said.

Padilla was shot by Rahami, who was captured by Padilla and his fellow officers after fleeing. Padilla was wearing a bullet-proof vest when he was shot in the abdomen.

Gottheimer said, "We have Officer Padilla and his colleagues to thank for apprehending Rahami, stopping a terrorist in his tracks and protecting our community."

Investigators believe that Rahami, who is a U.S. citizen, became radicalized after a 2014 trip to Afghanistan, Gottheimer said.

After receiving the invitation to joint session,


---

U.S. Rep. Gottheimer speaks at the Bergen County Law Enforcement Memorial at the Bergen County Law and Public Safety Institute.

---
Padilla said the first person he called to share the news with was his wife.
---
---
The police officer said he is "beyond excited" to be Gottheimer's guest, calling it a
"great honor."
Padilla said, "Not everybody gets this chance to be able to go down to Washington."
Viewers can watch the president's address to the joint session of Congress on
whitehouse.gov
, the White House's
Facebook
page or on television.