BY HILLARY VIDERS
SPECIAL TO PASCACK PRESS

BERGEN COUNTY - Gurbir S. Grewal was appointed as acting Bergen County prosecutor on Jan. 4, 2016, and sworn in as Bergen County prosecutor on Nov. 14, 2016.


As prosecutor, Grewal is the chief law enforcement officer of Bergen County – the most populous county in New Jersey and home to nearly 1 million residents living in 70 municipalities. He oversees a staff of approximately 265 personnel at the Bergen County Prosecutor's Office (BCPO), consisting of assistant prosecutors, detectives and support staff. He also exercises supervisory authority over approximately 2,700 sworn law enforcement officers in 72 law enforcement agencies that operate in Bergen County.
---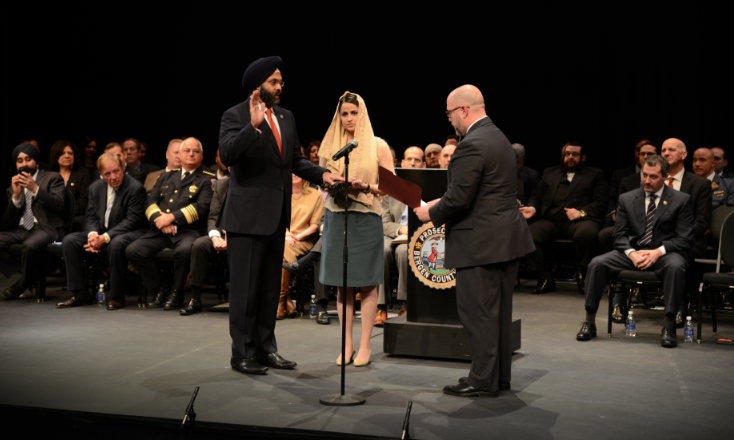 Bergen County Prosecutor Gurbir Grewal, with wife Amrit at his side, takes the oath of office, administered by New Jersey Attorney General Christopher Porrino. (Photo courtesy Bergen County Prosecutor's Office.)
---
In addition to conducting its own proactive investigations, the BCPO maintains specialized squads that assist municipal police departments in the investigation of crimes calling for increased personnel, specialized equipment, technical know-how or highly specialized training. These crimes include arson, homicide, sex crimes, drug trafficking, traditional organized crime, domestic violence, financial crimes and cyber-crimes.

In addition to his many tasks in overseeing law enforcement issues, Prosecutor Grewal is very active in community events in Bergen County, such as Englewood's National Night Out, the Diwali Mela Festival in Overpeck Park in Leonia and last week's Englewood town meeting on public safety.

I spoke with Prosecutor Grewal recently at his office in Paramus:


Hillary Viders: On Jan. 11, two narcotics agents from your office, Detectives Don Ingrasselino and Juan Arroyave, gave a dramatic presentation about opioid and heroin addiction at the Cresskill High School and Home and School Association. Do you plan on having more presentations like this at other schools and community centers in Bergen County?

Prosecutor Grewal: This is a regular part of what we do with respect to the heroin and opioid epidemic. One of our points of emphasis is trying to get kids before they get on the path to addiction. Each year, we go to as many schools across the county as invite us, where we focus on high school freshmen. Last year, we spoke to about 50 freshman classes and reached about 10,000 students. Our goal for this school year is to do even more. We also speak to parents groups in the evenings. Unfortunately, the parents meetings are poorly attended. We understand that parents are busy with work and it can be tough for them to get out, but these presentations are critical. When we speak, we always say that, "This is not just a law enforcement issue, it's a public health issue," so we need to capture the kids before they are even tempted by any drugs.

As such, we are working with some of the schools to make it mandatory for the parents to attend these meetings before their children can attend the prom. Northern Valley Demarest is one of the schools that is instituting this requirement for prom. In some schools, these meetings are a requirement for children to participate in sports, because that is a big pathway to drugs.

HV: What else is your office doing to address the problem of heroin?

Grewal: I break it down into number categories: Number one is the education of the youth. The second thing we are doing is trying to be more creative with our law enforcement initiatives. Last year, for example, we did an initiative called "Operation Helping Hand," where we rounded up 40 low-level drug users who we observed buying heroin outside of the county, but bringing it back in. When we arrested them, we gave them the option of going into a five-day detox program with the hope that they would then go into long-term treatment. We coordinated with the county and the sheriff and we set aside detox beds at Bergen Regional, which has the only detox beds in the county. We had to cut the program short because we ran out of detox beds (there are only 80 beds in the county for detox). Out of the 40 drug users that we arrested, 12 of them took us up on the offer, three of which went into long-term treatment.


HV: Do you use these recovering addicts to advocate drug avoidance to students?

Grewal: We do. The problem is that heroin is such a tough addiction to kick and we are looking for former addicts who are clean. It is important for students to see people who have sat in those same chairs in school assemblies not so long ago.

Another thing that we are doing is the "Recovery Touch" program, in which we work with children's aid and family services to train people to speak to individuals who have overdosed and have been revived with Narcan. We dispatch trainees to hospitals to coach these people. We are working with the hospitals to get permission to allow these coaches into the ER.

The fourth thing that we are doing is giving

---

Prosecutor Grewal (right) at Englewood's National Night Out with Pastor Gregory Jackson of Mount Olive Baptist Chuch in Hackensack and Englewood Chief of Police Lawrence Suffern. Photo by Hillary Viders

---
Narcan to all the law enforcement officers in the county to carry in their cars.

HV: How many Narcan saves do you have a month?

Grewal: This year, just in January, we had 20 Narcan saves. Last year, we had over 180 Narcan saves by law enforcement alone, but it's hard to get a total count because we don't track the saves in hospital ERs.

HV: How many drug overdose deaths did Bergen County have last year?

Grewal: Eighty-six.

HV: Is Narcan used off label or was it developed specifically as an antidote for drug overdose, and is it only given for heroin overdoses?

Grewal: Narcan, which is called Naloxone, works for any opioid. I don't know if it is off label, but I believe it was developed specifically for drug overdoses. It was originally an injection, but that was difficult for law enforcement to administer, so now it is a nasal spray.

HV: Is your office using social media in your anti-drug campaign?

Grewal: Yes. If you go to our Twitter page and Facebook page, you will see in real time every Narcan save in the county and it's on a map of the county to illustrate the fact that it is in every pocket of the county. We also want to highlight the good work being done by law enforcement to save lives. For example, we will list "Elmwood Park PD saves a 20-year-old female with Narcan."

We also have a map on social media in which we highlight every drug death as it happens.


---

---

HV: When addicts know that they can be saved with Narcan, does that become a crutch enabling them to continue their habit?

Grewal: I can't get into the mind of an addict. Some addicts have lashed out at law enforcement officers after they were revived, saying, "You ruined my high." They don't realize that they were on the precipice of dying.

HV: Do these near-death experiences resonate with addicts effectively enough?

Grewal: We're hoping to shock people into having a conversation at home.

HV: What laws are currently being enacted to limit prescription drug use?

Grewal: That's something that the attorney general is working on. They are trying to limit prescription drugs to the five-day rule.

HV: What about the people who are in intractable pain and need a larger supply? Has there been a backlash from this group?


Grewal: A lot of states have instituted the five-day rule without a problem. Some states are at seven days. For some people, it is certainly an inconvenience, but those who really need these painkillers can renew their prescriptions, and we have to weigh that inconvenience against the kid who goes home with 90 pills. Whenever possible, it is always better to be conservative. I had ankle surgery in 2015 and I didn't take any pain killers at all.

HV: Is the five-day rule going to make a dent in what is a multi-billion-dollar illegal drug trade?

Grewal: I think that the fiveday rule affects the chain of events. People start with pain pills. If these pills are over-prescribed, after the pain is gone, a lot of people keep taking the pills. They eventually need the pills to get through the day and increase the dose until the prescription runs out and they buy the pills illegally. When that $40-a-pill habit becomes too expensive, they turn to heroin because it is so much cheaper. There is also a phenomenon called "pill parties," in which kids take leftover pills from the medicine cabinet and bring it to a party where everyone mixes and matches different medications. So, controlling the supply is critical.

HV: I would like to discuss another important issue, that of cyber-crime. A number of years ago, you were the lead prosecutor in United States v. Drinkman, et al., the largest known data breach prosecution in which the conspirators participated in a worldwide scheme that targeted major corporate networks and stole more than 160 million credit card numbers, causing hundreds of millions of dollars in losses. How is your office currently addressing the problem of computer hacking and cyber-crimes?

Grewal: The United States v. Drinkman was the largest cyber-criminal case ever prosecuted. There was a tremendous challenge with that case and with all large scale cyber-crimes. We go after the hackers who steal the information from banks and then sell it online to other people who use it to compromise consumers' identity and/or drain their bank accounts. The problem is that the people who orchestrate these crimes are usually overseas, in countries like Russia, Ukraine and Eastern Europe, where we cannot extradite them. We can eventually identify the hackers by the monikers that they use on the Internet, by talking to them in chat rooms or by following up an IP address. Sometimes we also use informants. But, the challenge of bringing them to justice is always difficult. In the United States v. Drinkman, the five defendants were all overseas, but the Secret Service and the U.S. Attorney's Office were patient and vigilant. We waited until two of them traveled overseas to Amsterdam, where we coordinated with the Dutch authorities and eventually arrested them. They haven't been sentenced yet, but they are facing a maximum sentence of 30 years.


---
---
HV: I read recently that President Trump is going to be beefing up cyber security. Will that bolster your efforts?

Grewal: The problem with cyber security is that it is only as good as the people who work at the organization. All it takes is for one person to click on that link you're not supposed to click on or open up one of those phishing emails. So, as long as humans are fallible, the hackers can find a way to hack.

HV: Has your office prosecuted individuals for violating the Anti-Bullying Bill of Rights?

Grewal: The Anti-Bullying Bill of Rights is not a criminal statute. In 2013, however, the N.J. legislature passed, and the governor signed into law a cyber-harassment statute, 2C:33-4.1, which became effective in January 2014 and created a new fourth crime. That new statute enabled us under certain conditions to charge people criminally for harassing others on the Internet. As to that particular crime, we have prosecuted people for cyber-harassment over the years.

HV: How will the new presidential administration affect the prosecutorial powers of your office?

Grewal: We're a state law enforcement agency, so we don't enforce federal laws. However, ultimately, they can give us resources, i.e., money, to enforce our initiatives, such as the heroin and opioid initiatives about which we spoke. There is money out there in Congress and we're hoping to get federal funds. But from a law enforcement perspective, I don't think that this will affect us.

HV: How does President Trump's immigration ban affect your jurisdiction? For example, are you directing law enforcement officers who stop Muslims suspected of committing felonies to report them for deportation if they are in the U.S. illegally?

Grewal: We have an attorney general policy that was instituted in 2007 regarding immigration status as to what we can and cannot ask that governs how we operate. According to that policy, the prosecutor's office does not investigate crimes and make arrests at the street level. We have 110 detectives that supplement local law enforcement and criminal matters across the county. An example would be burglary crews and cyber-crimes.

The attorney general's directive says that you can only inquire about someone's immigration status after an arrest for an indictable offense, a felony, has been made, or for drunk driving. In these two instances, you can inquire about immigration status and then the local law enforcement is required to report it to immigration.

My attitude is that I do not want anyone to not reach out to us because they are afraid that if they report a crime that it might jeopardize their immigration status. That attorney general's dictate states that if a witness or a victim comes to us to report a crime, we cannot inquire about their immigration status. The exception would be if that witness or victim has to testify at a trial because that is something that the defense may use on cross examination.

HV: What other major problems in Bergen County is your office currently addressing?

Grewal: Heroin and opioid epidemic is first and foremost for us. Another widespread issue that we're seeing at the county level is residential burglaries which are on the rise and persistent.

HV: To what do you attribute this problem?

Grewal: There are a couple of reasons for it. Obviously, Bergen County presents a target-rich environment where you have a lot of affluence. A lot of the people that we are seeing engaging in residential burglaries work in very organized crews. We arrest them, and then we realize that they are the same people that we arrested two or three years ago. This is because the penalties that exist for residential burglaries where violence is not involved are very minimal third degree offenses.
---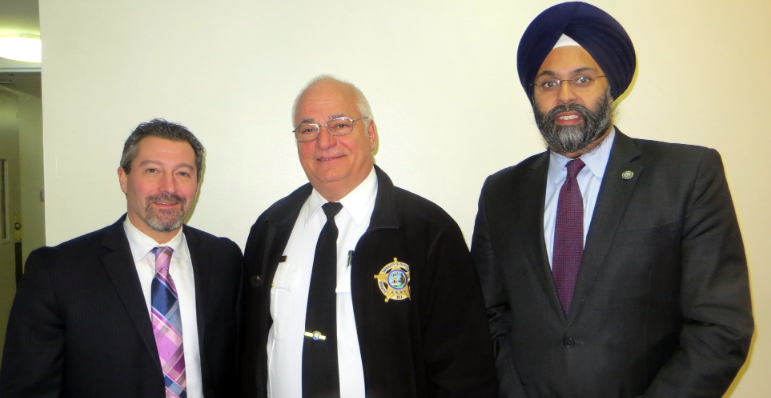 Bergen County Prosecutor Gurbir Grewal (right) with Chief of Detectives Robert Anzilotti and Bergen County Sheriff Michael Saudino
---
HV: Do you have authority to change that?

Grewal: Since I've been in office, I started that conversation with our state senators to have legislation to increase those penalties.

HV: Overall, what are the biggest logistical challenges of your office?

Grewal: We have a lot of challenges like any organization that has this many people. One of the things we are dealing with is succession planning. We've had a lot of standard retirements in law enforcement and we have to make sure that we train the next generation of law enforcement leadership and prosecutors to become leaders.

HV: How much training do you give up-and-coming prosecutors?

Grewal: That's a great question. When I got here in January, there was no system in place. In the attorney general's office, we had constant training on different issues. What we issued last year was what we call "The Prosecutor's Tool Kit," which is quarterly training on frequent issues as well as opening and closing statements. We also give them professionalism and ethics training. Next month, for the first time, we are doing "Implicit Bias" training for prosecutors. In law enforcement, we call this "Fair and Impartial Policing."

HV: What do you like most about your position as Bergen County Prosecutor?

Grewal: I have the greatest job in the world! My job is easy in a lot of ways because I have 265 of the hardest working people with the most integrity. I just get to take the credit for all their hard work!

---
---