BY SUSAN McTIGUE
CORRESPONDENT

PASCACK VALLEY – Sharing a meal with local mayors, business administrators and police officers was a perfect backdrop for the annual meeting between Pascack Valley Meals on Wheels staff and community representatives whose residents benefit from the program.


Hosted by Sean and Lee Tremble, owners of the iconic Iron Horse in Westwood, the buffet breakfast was enjoyed as speakers stressed the need for a variety of expanding services to meet the needs of aging seniors. Mayors from Dumont, Oradell, Westwood, Haworth and Montvale attended the program.

Executive Director Jeanne Martin explained that the organization provides meals to people in northeast Bergen County who are unable to shop or cook for themselves due to age or disability. Clients must be homebound and live alone to be eligible to receive the daily two-meal package on weekdays. The cost for the meals is $7.35 a day, with subsidies available for those unable to pay. Over 550 volunteers drive and deliver food on a specified route, usually once or twice a month.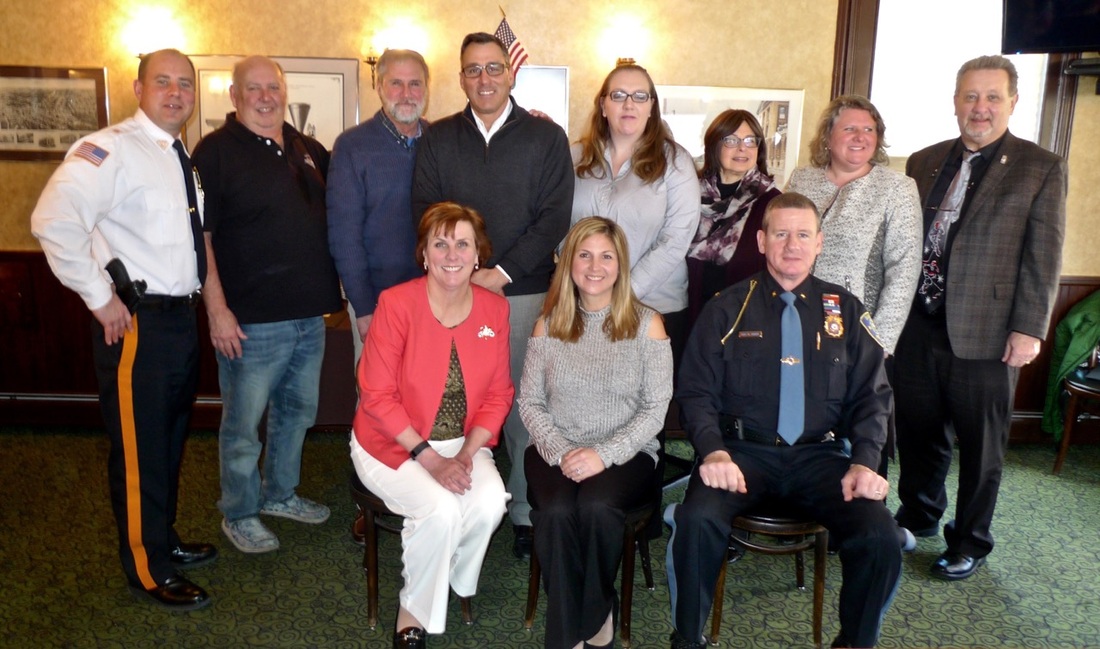 Executive Director Jeanne Martin of Meals on Wheels was joined by members of her staff, Lee Tremble of The Iron Horse, town officials and community representatives. Photo by Susan McTigue
The program, however, is about much more than food. In addition to providing nutritious meals, the trained staff supports volunteers in taking note of clients' well-being. If additional services are needed, the appropriate agencies become involved. The result can change the lives of seniors from feeling isolated and depressed to feeling engaged with the community and hopeful.

Julia Stoumbos, program officer of the Teaneck-based Taub Foundation, spoke of age-friendly community initiatives in northern New Jersey, towns where residents are able to live comfortably through the full spectrum of their lives. Acknowledging that public planning, policies and funding have not kept up with the rapidly growing senior population, the Taub Foundation supports Meals on Wheels in its commitment towards improved elder care and municipal development improvements. Aging-related issues must become more of a community priority far into the future.


Westwood Mayor John Birkner, Jr. described how his town is addressing the growing needs of its older population through "Westwood for All Ages," committed to raising the community's awareness of its senior residents, ensuring that their voices are heard and their contributions are recognized. A Senior Citizen Advisory Committee has been formed and plans for the future include an information center at the library manned by senior docents who will serve as ambassadors with the community. They provide a website directory that lists services, and encourage friends and neighbors to reach out to each other to identify those who may feel isolated. Attention is given to the "walkability" of Westwood, with improved public transportation to destinations like the weekly farmers market and longer crossing times at intersections.



---

Lee Tremble, owner of The Iron Horse, joined Meals on Wheels North Jersey Director Jeanne Martin and Westwood Mayor John Birkner Jr. Photo by Susan McTigue

---
Elder abuse – financial, physical or psychological – has become a growing trend nationally. In response, the Jewish Home in Rockleigh has designated a number of its beds specifically for domestic abuse cases involving seniors. If Meals on Wheels staff is alerted to this kind of need, they will help make the necessary connections.
Senior citizen centers can be great resources for reaching out to other seniors. Statistics reveal that 60 percent of people over the age of 65 can't afford everything they need including medicine, food and rent, so it is incumbent upon communities, first responders and social service agencies expand their reach and support to those in need.
To learn more about volunteering with Meals on Wheels or to contribute, visit
www.mealsonwheelsnorthjersey.org
.