BY SHANNON McLAUGHLIN
OF NORTHERN VALLEY PRESS

NORTHERN VALLEY – Thousands more children will wake up smiling on Christmas morning, thanks to the work of 46 police departments across Bergen County.


Since November, these police departments have been collecting toy donations at their respective headquarters from many generous contributors. On the morning of Wednesday, Dec. 21, volunteers met at the Closter Fire Department to categorize them all.

After the toys were organized, they were sent to various charities and local organizations, so children in underprivileged families, children fighting cancer or children with military parents will have presents to open on Christmas morning.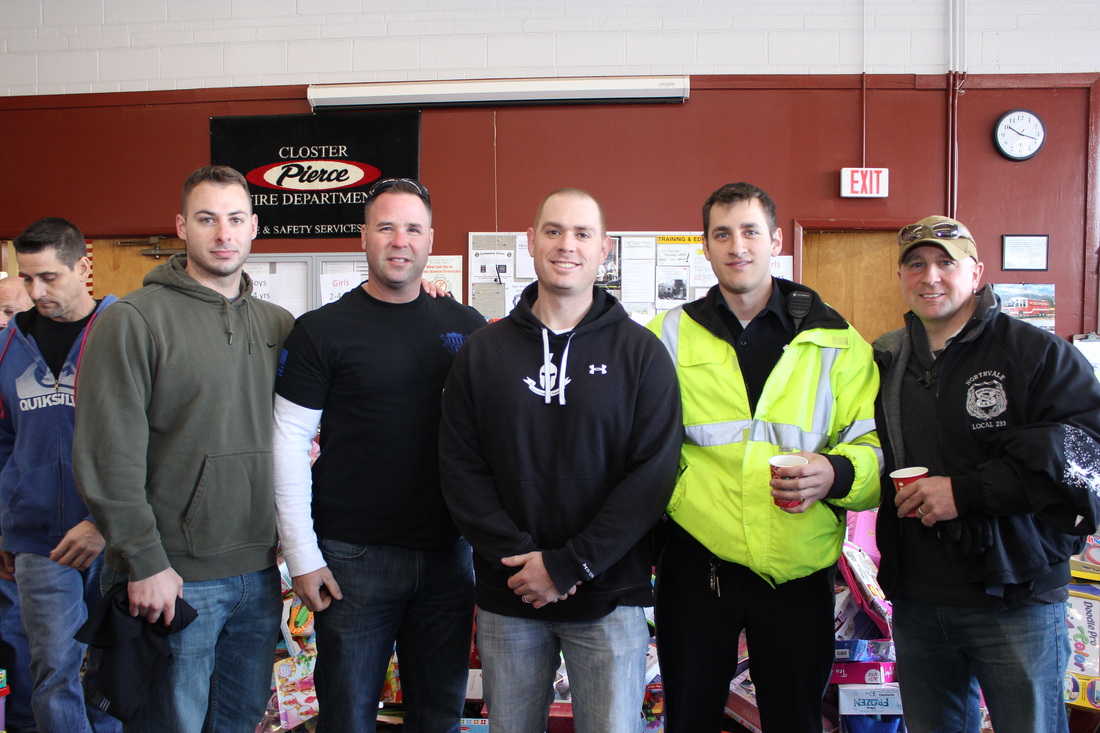 Volunteers meet at the at the Closter Fire Department to organize toys collected from the toy drive. Pictured: Northern Valley PBA Local 233 members James Klicks, Reginald Parcells, Corey Berghuys, Charlie Albanese and Rob Pizzi.
The toy drive was started 27 years ago by now retired Closter Police Sgt. Don Nicoletti. Now, as thousands of toys created mountainous piles in the Closter Fire Department, volunteers say the drive is bigger than ever.

Park Ridge Police Officer Scott Malloy said that the borough saw a successful response to the toy drive bin at their headquarters.


"As soon as December hit, people just started piling the toys in," he said.

Malloy was joined by Park Ridge Police Sgt. Jim Babcock and Officer Greg Santangelo.

Santangelo said it was his second year involved in the toy drive and he saw an overwhelming amount of toys this year.

"I honestly haven't seen too many duplicates of toys, so there's a lot of different toys here," he said.


Closter Police Department Patrolman Vincent Sarubbi is another toy drive volunteer. He said he has been involved for six years and spent the last three helping to run the drive's day-to-day operations.

The patrolman explained that volunteers organized the donated toys by age group. He said around 40 organizations and charities that come from across the county would pick up toys they need and others are brought to two hospital pediatric wards.

Patrolman Rich Liguori from the Oradell Police Department is one of the volunteers who visits children at the hospital. He is also the state delegate for Pascack Valley Local PBA 206, which represents officers from Oradell, Emerson, Haworth, Washington Township, Westwood, Woodcliff Lake, Park Ridge, Old Tappan and River Vale.

"I go to the hospital every year," Liguori said. "It's amazing. It's one of those things you do once and you're hooked."

---
---
Liguori said seeing the smiling faces of the children they visit is not the only thing that keeps him going back, but the parents' smiles as well.

"It takes a lot of stress off of the parents. A lot of them are strapped for money, especially around the holiday," he said.

When they visit the hospital, Liguori said that a Closter officer typically dresses up as Santa Claus and a Haworth officer dresses up as Buddy the Elf, the character made famous by Will Ferrell in the film "Elf."


Bergen County Sheriff Michael Saudino was also on hand to help organize the toys. He said the sheriff's department came with an old military truck stuffed with toys for the drive.

"If we can help underprivileged kids to have a nice Christmas, it's all worthwhile," Saudino said.

This statement was reiterated by many police officers volunteering their time, including Englewood Cliffs Police Chief Michael Cioffi. He called this year's drive "tremendous."

"Whoever you're helping, you're helping somebody," he said. "I'm just glad to be a part of it."

Toys were donated by members of the police department, residents or local businesses. Many businesses volunteered by donating toys or by donating their time and resources by providing the officers with a warm breakfast while they worked on Wednesday.

As the 27th annual toy drive wound down, preparations for the drive's future continue to look bright.

Sarubbi said that four Bergen County police departments joining the 2017 toy drive came to watch this year, so they know what to expect. William Annunziato, a lieutenant at the Bergen County Sheriff Youth Law Enforcement Leadership Academy, was one of the younger toy drive volunteers at 17 years old. He said the academy had its own toy drive collection and he looks forward to becoming a law enforcement officer in the future.

Sarubbi said the atmosphere at the fire department as toys were delivered Wednesday was a little crazy but, "at the end of the day, you remember who you're doing it for and it's an amazing cause."
Photos by Murray Bass
---
---