BY KRISTIN BEUSCHER
OF PASCACK PRESS
This article originally appeared in the Jan. 23, 2017 edition of Pascack Press.

PARK RIDGE – Seen in these photographs from the archives of the Pascack Historical Society, it's the first snow plow in Park Ridge. These photos date to 1926 – perhaps even to February of that year, when back-to-back snowstorms hit the New York metropolitan area.

A blizzard dumped 10 inches of snow on the greater New York area on Feb. 4, 1926, and another foot of snow six days later. Judging by the depth of the snow piles in these old photos, especially in the photo at bottom right, one must wonder if the images show the aftermath of those two snowstorms.



---

---
Park Ridge's snow plowing equipment was donated by local contractor George C. Bennett, whose name can be seen on the trucks. A stone and cement block contractor, Bennett was responsible for the construction of numerous late 19th and early 20th century buildings, bridges and foundations in Park Ridge and its environs.

One very visible example of Bennett's work is the mixed-use building at 37 Park Ave. Now it houses Nails Plus, but it was originally built as a firehouse.
---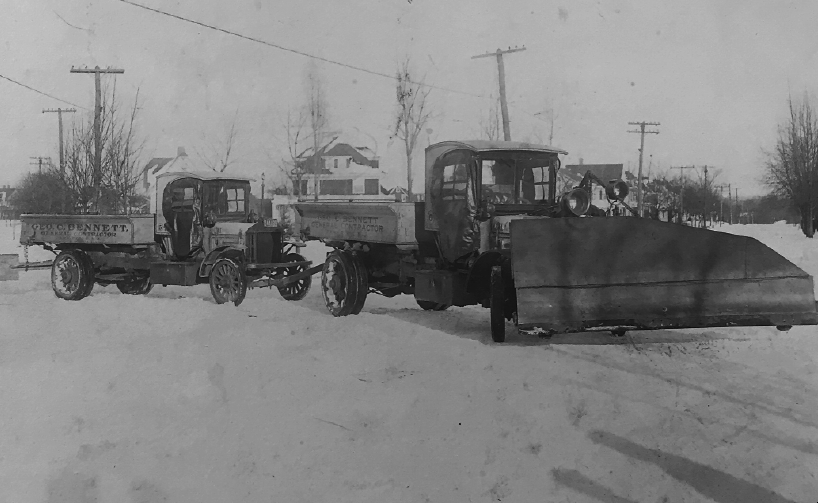 ---
Bennett built and lived in a stately cobblestone residence at 50 Pascack Road. Later it was used as a convent, but today the building is used as offices for Our Lady of Mercy R.C. Church, which stands next door, and for its private Catholic elementary school.

The author is a trustee at the Pascack Historical Society in Park Ridge and editor of the museum's quarterly newsletter for members, "RELICS."