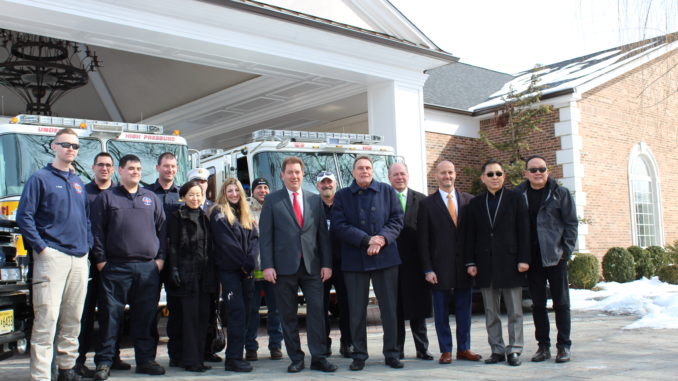 NORTHVALE/NORWOOD, N.J.—The ninth annual Chodae Church Golf Outing will benefit emergency services in Norwood and Northvale.
The announcement was made by a delegation including Chodae Church's Senior Pastor Rev. Jimbob Hyung Park, Church Elder Victor Cha, Church Deacon Sung & Jacqueline Choi, Bergen County Clerk John S. Hogan, Northvale Mayor Patrick J. Marana and Norwood Mayor James P. Barsa.
This year's popular, much anticipated event will take place on Monday, May 13, at the Rockleigh Golf Course, located at 15 Paris Ave., Rockleigh. Registration will begin at 7 a.m., with tee-off at 7:45 a.m. 
The fee of $125 includes greens fees and cart, breakfast, prizes, gifts and a luncheon at The Rockleigh. 
As in the past, proceeds will benefit the volunteer fire departments and ambulance corps of Norwood and Northvale to purchase essential equipment to ensure their duties are safely carried out. 
For more information, to purchase a ticket, make a contribution or be an event sponsor, please contact Deacon Sung Choi at (201) 669-9976 or email ChodaeGolfTournament[AT]gmail.com.