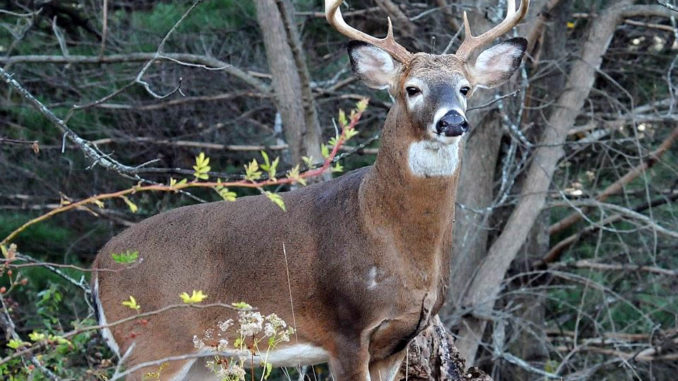 BY MICHAEL OLOHAN
OF PASCACK PRESS
RIVER VALE, N.J.—A unanimous Township Council agreed April 8 that a regulated bow hunt is the only proven way to reduce deer population and voiced approval for a local hunt.
Township officials decided that a regulated bow hunt by professional hunters is likely the only effective method to cull the local deer herd and will soon be reaching out to state Fish and Wildlife officials for specifics and a possible timetable.

An ordinance on a deer hunt will likely be introduced at a future meeting when details are confirmed, said Mayor Glen Jasionowski after the meeting.

After hearing from advocates for lethal and non-lethal deer management controls over the past six months, council members unanimously agreed to give the go-ahead to a regulated bow hunt to cull the herd, likely later this year if ordinances and legal wrinkles can be ironed out before fall.

Following the agreement—no council vote was taken—the mayor and each council member expressed views on a bow hunt to reduce deer population.

In October at a Pascack Valley mayors conference, Jasionowski said a deer hunt appeared to be the only viable option to cull deer numbers but backed off following resistance and heard from experts on lethal and non-lethal reduction strategies.
While Jasionowski had opposed any deer hunt locally for years, he came to believe that culling the herd is the only option.

He said state officials had not approved a non-lethal plan to control deer and that no viable non-lethal option existed.
'A controlled hunt'

"My administration recommends a controlled hunt on our golf courses and on appropriate nonresidential open spaces," Jasionowski said.
Jasionowski has mentioned River Vale Country Club as one site for a deer hunt but other locations are not yet identified.
He said the hunt will be coordinated with the police department "prioritizing the highest level of safety for all our residents." Jasionowski said he knows many residents "will be upset by this decision and I respect that. Please understand how difficult this was for me and respect the fact that I am doing what I believe to be best for residents," he added.
He said "deer-related incidents are at an all-time high" and that "the easiest thing for this governing body to do would be ignore the issue and not act."
The mayor said at least 50 deer–auto incidents occurred in the past year, and that his "biggest fear" was a resident being killed in a deer-related accident.
Council President Mark Bromberg said the "best solution" to reduce deer population is to cull the herd. He said he was in total agreement with the mayor's call for a hunt.
Councilman Ari Ben-Yishay said "no other matter has evoked more emotion and diverging opinions than this one." He said a lack of predators and abundance of food "has contributed to a dramatic increase in deer numbers" despite a local ordinance to not feed wildlife.
'Deer herd is doubling'
Ben-Yishay said the deer herd is doubling annually, with two to three fawns being born to each doe.
He said tick-borne diseases increase as deer numbers increase and as deer numbers decrease so do tick-related illnesses such as Lyme disease.
Ben-Yishay said council members did extensive reviews and that "sterilization of deer is not available to us at this time." He said of the suggestion that River Vale should sue state officials to conduct a surgical sterilization program it is "not a viable option."
He urged the Animal Protection League of New Jersey to continue research and advocacy for non-lethal deer control methods and said he remains "open-minded" to non-lethal methods that are proven effective.
He called a deer hunt "the only practical option for our town and residents."
Councilman John Donovan said his decision was based on health and public safety, noting he reviewed police deer–vehicle accident reports. He said about two-thirds of deer-related accidents occurred in an area less than a mile of River Vale Country Club.
"That suggests to me we can do something," he said. He said his email mailbox was overloaded with emails in past weeks asking something be done, with only two residents willing to put their names on emails opposing a hunt.
Numbers and options
Donovan said he wanted two conditions attached to his approval of a hunt. He wants an assessment of population numbers in the local herd, and wants to write state officials to request other options for a deer reduction strategy in the future.
Councilwoman Denise Seig said "this was very hard for me" and cited residents with Lyme disease, deer-related accidents and property damage.
"I can't sit up here and personalize it. I have to think about my residents," she said in supporting a hunt "with a heavy heart."
She said it's "not normal to have 15 to 20 deer in your backyard."
Council Vice President Paul Criscuolo said he "never held a gun, never held a bow."
"I do feel the need we need to further analyze procedures to cull the herd," he said.
Criscuolo said the state is not approving non-lethal means, but one it suggests such as trap and transfer of deer—also has critics and may not be best for the removed deer.
Council unanimous
"It appears that the entire Council unanimously supports you having to do something that you never wanted to do," said Bromberg to the mayor.
Jasionowski said he would join Donovan to write a letter to state officials requesting other options to manage deer population.
Bromberg added that the township needs to know deer population numbers, which should be provided by state officials. He said state officials would tell them how many deer must be culled "to bring it back into balance so the deer stay where they usually stay. We don't want to eradicate deer, we want to cull to bring it back into balance," he added.
Most residents who spoke said they favored a deer cull, citing large amounts of deer on property, motor vehicle accidents, and fears of Lyme disease.
A few residents opposed a deer cull effort, and a couple representatives of Animal Protection League said they were "extremely disappointed" with the decision.
Kim Nagelhout, a Park Ridge resident, said she would be willing to pay out of her own pocket to install reflectors, better lighting, and white burlap on signs to reduce deer–car accidents.
'It's an insult to our intelligence'
"You're hunting close to homes that border the property over there," she said. "Claiming that hunting will save someone's life is an insult to our intelligence," Nagelhout said.
One resident suggested a safe deer corridor to allow deer to pass from the River Vale Country Club across the road.
She called on local mayors in Pascack Valley to coordinate deer management plans.
These are loving gentle creatures. They're not just disposable creatures. It just breaks my heart," Nagelhout said, adding she never expected to see hunting in the Pascack Valley.
Mark Nagelhout, of Park Ridge, said "a lot of information" was given to officials to adopt non-lethal methods and it was not done.
He said educating people about non-lethal deer control strategies was not being done enough by towns and called on officials to provide more information about deer and tick control on the township website.
More to follow?
Jasionowski said "it's been an incredibly difficult several years" addressing deer control and he "truly believe(s) you will start to see other towns fall into line" on initiating a deer control strategy because River Vale has acted.
"I've been approached by other mayors that are watching this very closely," said Jasionowski, noting River Vale and Saddle River, who initiated a bow hunt last year, have "stepped up" on the divisive issue of deer management.
While only Saddle River has initiated a bow hunt—culling 135 deer over a four-month hunting period—many towns have debated deer control and reduction methods with few taking action.
Englewood's efforts

Englewood created a city Deer Task Force in 2018 following a deer survey that showed dramatic increases in deer population over a five-year period.
The task force has held one public educational session on deer management in fall 2018.
Another "regional symposium" is scheduled June 5 at the city's Municipal Court Room for mayors, elected officials and representatives. The session will feature a discussion on "developing a regional approach to this issue," states a flyer on the event.
Contact Englewood Health Department at (201) 871-6501 to learn more or reserve a spot.
Of 21 county governments in New Jersey, only three, including Bergen, the state's most populous county, lack a comprehensive deer management strategy.