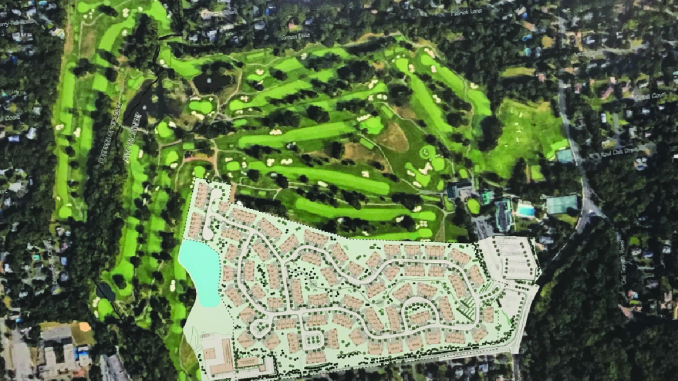 BY MICHAEL OLOHAN
OF PASCACK PRESS
RIVER VALE, N.J.—Questions about soil testing protocol for sampling of the former Edgewood Country Club golf fairways being proposed for a 249-unit multifamily development—and how the sampling was conducted—became a point of contention at the second Joint Planning Board hearing Feb. 28.
In addition, stormwater concerns and questions from residents took up a large part of the hearing.
Approximately 50 people attended the hearing at River Vale Senior and Community Center, less than half at the first meeting held Jan. 16 at Holdrum Middle School's gym.
An argument over whether the developer of Fairways at Edgewood should submit soil sampling test results to the township engineer prior to any future construction on the former golf course property—where pesticides were applied for decades—was one of several issues that provoked disagreement.
The second hearing featured concluding testimony from applicant engineer Daphne Galvin, Partner Engineering and Science, Inc. Eatontown, and board and public questions on issues such as sidewalks, fencing, entrances and exit access to the site, and stormwater volume, flow and management.

Township engineer concerns
During an almost four-hour hearing, which covered in detail township engineer Christopher Statile's 18-page, 69-point review of the proposed development and responses from the applicant, along with expanded explanations from both on each item, a variety of issues dominated the technical testimony.
Due to public interest in the development proposal, applicant consultant reports and plans are posted on the township website, including Statile's review letter and the replies from applicant, Woodmont Properties, Fairfield. One contentious exchange occurred when Statile said that the applicant should submit site soil sample results to the township in advance of any future board decision.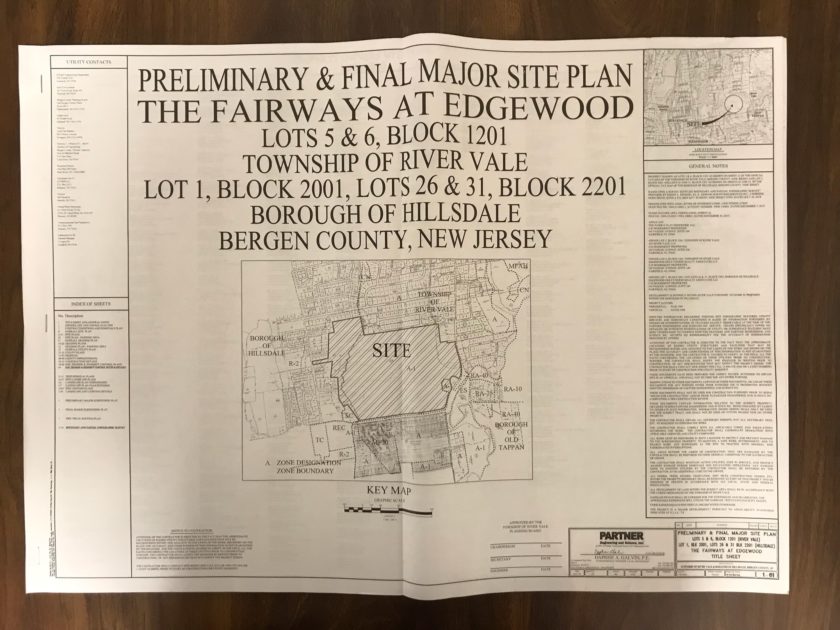 'One of most important items'
"This is probably one of the most important items in this project," said Statile, highlighting one point in his review letter.
Statile said many golf courses and recreation areas have been converted to residential housing over previous years and cited a current situation in Mahwah and Upper Saddle River where sampling by a resident showed elevated arsenic levels in a nearby stream near a townhome development.
That development site is a former apple orchard where pesticides were used for decades.
Statile said the applicant should come to the board with its licensed site remediation professional and present its plan to investigate possible pesticide contamination. He said that plan can then be reviewed by the board's environmental professional.
"We would shadow the person taking the samples and make sure the samples were taken appropriately," Statile said. "The board should know now before being approved what's happening on that golf course," he noted.
He said township employees visiting or working at the site could be exposed to dust, mud on the boots, contractors, subcontractors on site…all sorts of people on site," Statile said.
"There has to be a plan provided by the applicant, how is it going to be mitigated?," Statile asked.
He repeated that the applicant needed to provide such a plan pre-construction for board review.
Wolfson said the applicant had retained a site remediation professional, conducted testing, and will present sample results "as a condition of approval."
"We obviously have pride in our responsibility to meet all regulations and have a safe project," he said.
'We want to look at sites'
"The only problem here is that we want to look at where the samples were taken," responded Statile.
When chairman Scott Lippert reminded Statile that an LSRP is a licensed site remediation professional who is qualified to take such samples, Statile said the township's LSRP consultant wants to make sure the soil sampling of greens and fairways is "balanced because you don't want to end up with a hot spot that's not dealt with," he said.
Wolfson said he objected to Statile's suggestion for advance soil sampling presented to the board as "excessive" and agreed with Lippert's statement that an LSRP is a licensed professional and they would provide that report. Wolfson said the LSRP is licensed and regulated by the state, similar to Statile's license as engineer.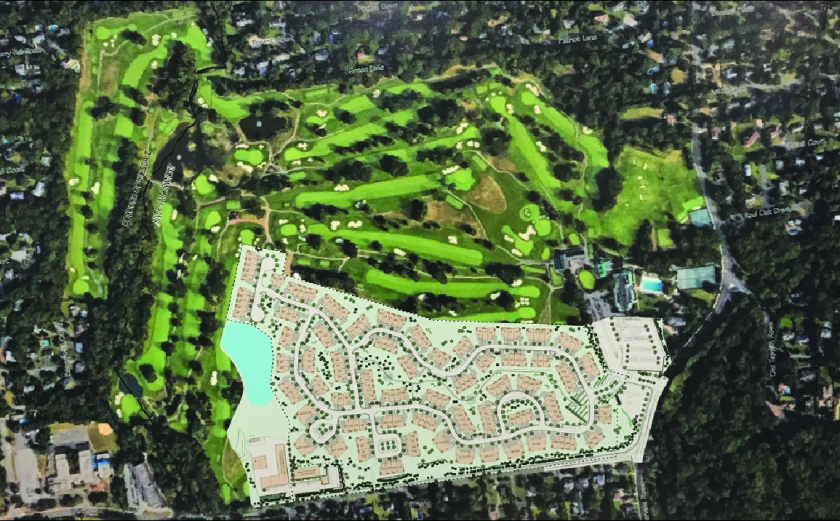 Board yet to decide issue
Following the back-and-forth exchange, Lippert said the board "would have to decide that one" and when member Robert Adamo asked to clarify the issue, Statile again said it was important to provide soil test results and know if there are any contaminants on site prior to the board's decision on the application.
"Excuse me, there are none [contaminants]," interrupted Wolfson. "We have tested already, the LSRP will certify to it," said Wolfson. When Statile again requested Wolfson to produce the test results prior to a board decision, Wolfson said he felt the request for advanced results "feels like we're going down a rabbit hole here" as NJDEP has sampling protocols for detecting potential pollutants on a site and a licensed site remediation professional program to address site assessment and remediation.
"This [request] is not consistent with that," said Wolfson. "Respectfully, we appreciate Mr Statile's concern for the health and welfare of the community. We share that but we just want to do what the law calls for and that's what we're doing," he added.
Board attorney Marc Leibman noted recent press reports supported Statile's emphasis on soil test results, citing other nearby developments "being developed by reputable builders who came in with reputable experts and from what I'm reading there may be or may not be a ton of arsenic" leaving these sites, he said.
'Best way possible'
"So, you can do it the lawful way but still not do it the best way and I think Mr. Statile wants to make sure this is getting done the best way possible," said Leibman. He asked whether the applicant LSRP's "malpractice coverage" would cover liabilities for contaminated runoff five years from now.
Statile said the applicant has refused to provide sampling results—including sampling locations—in advance.
Wolfson said the LSRP is "specifically trained in the proper protocol for sampling" and repeated that the applicant "will supply the LSRP certification that it meets all [state] DEP requirements." He said the LSRP is trained to know where to take samples, how many, and at what depths.
Statile said the township's consulting LSRP would review the applicant LSRP plan and results, not him, and said there was no reason to call pre-approval of such "as extra or excessive" as Wolfson characterized it.
Member Michael Beukas said in order for the proposal to continue, he "did not see a significant burden" for Fairways at Edgewood LLC to produce its LSRP report so the board's consultant could review sampling locations. Lippert said the board would have to decide whether to make that a condition of approval. "Just to be clear, the samplings already been done," Wolfson said.
Statile said that previous soil sampling results for other developments in River Vale have shown pesticides at properties used as golf courses.
No decision was made by the board on whether to require advance submission of sampling locations and results as Statile urged.
Development 'peak runoff'
Galvin testified on details of how stormwater management on the site would control runoff generated by the new 249-unit development, which includes 24 affordable units.
Questions were raised on how the stormwater projections were made, what lots were included in the stormwater analysis on the development, and what types of controls will be employed to reduce peak runoff rates despite an increase in stormwater volume.
Galvin said though there is an increase in volume of stormwater runoff—due to increased imperviousness on site—the applicant notes that the proposed impervious cover meets current township code, or below 40 percent imperviousness.
She said the majority of the site drains to Holdrum Brook, with only a small portion draining towards Rivervale Road.
Galvin said the flow towards Rivervale Road would be redirected to a new retention pond in the site's southwest corner near Holdrum Brook. She also said runoff going toward Piermont Road would be redirected to a large wet detention basin.
She said one of the two smaller dry detention basins in the southwest site corner will be combined with a larger wet detention basin, to help in irrigating the remaining 18-hole golf course, and provide groundwater recharge.
Both remaining detention basins, when full, will slowly discharge storm flow to a tributary of Holdrum Brook, thus reducing the peak runoff rate. Peak runoff is defined as the maximum rate of runoff during a storm.
She said details of revised stormwater basins would be provided to Statile.
Galvin said the revised stormwater control system provides reduction—as required by NJDEP—in runoff flow volume for the two-year, 10-year and 100-year storms.
She said the developer, per DEP best management practices, will minimize imperviousness by only putting sidewalks on one street side, and use soil stabilization practices that include bank stabilization, riprap, maintaining existing trees, reduced soil compaction, use of native plants and catch basins that catch debris.
Statile said he had reviewed the stormwater management and the applicant's proposed system reduces peak runoff—allowing storm runoff to slowly be discharged to nearby streams.
"You're not allowed in New Jersey to do a project this size without actually making things better from a runoff perspective than they were before," said Leibman, following questions about runoff volume from an audience member.
Statile said the developer was asked not to irrigate land within any riparian buffers—land buffers that filter runoff near a stream—but Galvin said the developer did not see that as a concern.
Public questions focused on whether cold or snow affects soil sample results (Statile said no); whether underground streams will be studied (Statile said possibly); about safety concerns for children traversing Piermont Road during construction (Wolfson said it will be addressed); and whether solar power was considered (it was not).
Holiday Farm concerns
Jameson Van Eck, an attorney representing a legal entity of Holiday Farm, a nearby townhome development, argued with Leibman over whether he represented the homeowners there or a legal corporation.
When Leibman asked several times if Van Eck represented the homeowners from Holiday Farm who previously spoke at the meeting, Van Eck took exception and argued he only represented the legal corporation, noting the homeowners there should be allowed to voice opinions.
Van Eck disagreed with multiple planning and engineering items, pointing out a long list of related items which he claimed required variances under previous zoning and were not addressed by the new A-1 zoning amendment adopted to provide for the affordable housing development.
Wolfson said several times that all of Van Eck's multiple charges would be considered and dealt with later in the hearing process.
The next hearing is March 28, 7:30 p.m. at River Vale Senior and Community Center.