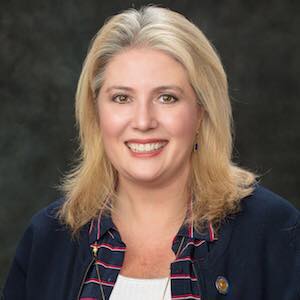 BY JOHN SNYDER
OF PASCACK PRESS
PASCACK VALLEY AREA, N.J.—Holy Name Medical Center has named Legislative District 39 state Assemblywoman Holly Schepisi its vice president of development and president of the Holy Name Medical Center Foundation.
Schepisi, who will step down as special counsel with Westwood-based Huntington Bailey, LLP, to take the gig, said she will keep her seat on the Assembly.
She told Pascack Press on March 1 that she will start her new job April 1 and is excited to hit the ground running.
"I am ecstatic to start this position at Holy Name, widely recognized as one of the leading healthcare organizations in the state," Schepisi said.
The medical center, in Teaneck, says it has nearly 4,000 employees and admits approximately 30,000 patients each year.
Its foundation has helped raise millions of dollars for new state-of-the-art medical facilities including The BirthPlace, The Sister Patricia Lynch Regional Cancer Center, The George Pitkin, M.D. Emergency Care Center, and The George and Amy Newman Cardiac Diagnostic Center.
"As a private, not-for-profit organization, Holy Name Medical Center receives no federal or state subsidies or county tax support, making it that much more critical for the Holy Name Medical Center Foundation to seek independent donor support," the foundation says on its website.
Schepisi suggested she's going to show up to work early, saying she's supporting the foundation's 22nd Annual Spring Fashion Fling, a benefit for Holy Name's Multiple Sclerosis Center, on Sunday, March 24 at the Glenpointe Marriott in Teaneck.
Her top goal, she said, is to engage doctor practice groups and others to help renovate and upgrade the operating rooms.
Along with that, she said, she's eager to help improve palliative care and hospice facilities and services.
"We'll bring more awareness of it, hopefully being getting more doctors involved in understanding that end-of-life care is just as important as the treatment that they're providing," she said.
She knows from painful experience
Schepisi, 47, of River Vale, suffered a brain aneurysm in 2015 and has seen many family and friends suffer—and die—of cancer.
She also has had cared for her daughter, Kayla, who as a newborn and in both November 2018 and in January, at 15, needed major surgery—both addressed in part at Holy Name facilities.
Kayla's praise of Holy Name helped convince Schepisi she was on the right track, she said.
She added that, with care her husband, Paul, needed as well, her family's medical and insurance experiences "reinforce for me that we have to be happy in our day to day lives and how short life is."
She described the job as a perfect fit, given her work on philanthropic organizations, as part of executive teams, and in business development.
In a statement, Michael Maron, CEO and president of Holy Name Medical Center, said "The entire Holy Name community is thrilled to have Holly on board in helping our organization continue to grow and expand."
He added that Schepisi's "deep ties to the community and keen insight into the healthcare industry will take our foundation to the next level in supporting our top-notch patient care and leading-edge facilities."
Coming full circle
Schepisi, daughter of former Bergen County Republican Chairman John A. Schepisi, got her start in law representing healthcare incubators and pharmaceutical companies, working on multimillion and -billion-dollar projects.
Learning her newborn needed major surgery, Schepisi switched gears and hung out a shingle at home, taking on clients' house closings and zoning board applications.
She and Paul also have a son, Easton, 4.
In the wake of her aneurysm in 2015, Schepisi packed up her home practice and went to work with Huntington Bailey, practicing governmental and corporate law, handling matters over land use, employment, criminal defense, and structured finance.
She said she won't miss the hustle of law—the billing in minute time increments, chasing down money owed—and is ready for the new challenge, which she said feels like a perfect fitting together of passion and talent.
"We are one of the remaining small community hospitals left, where it's really focused on patient accessibility and patient care. And as a mom, as a patient—as somebody who's been through it—it's just so very important," she said.
Legislative work important but not the whole story
Schepisi has served in the Assembly since 2012, representing her hometown of River Vale and 22 other municipalities in northern Bergen and Passaic counties.
She sits on committees for education, health and senior services, and committees dealing with housing, community development, and economic justice.
She said she will continue with the Assembly. "We'll see where everything brings us. I worked full time with the Assembly as a lawyer as well. It's a part- time position. What I've learned over the past seven years is how to multitask."
She also serves on the Boards of the Bergen Community College Foundation and Fordham University School of Law Alumni Association and is an advisory board member of SB One Bank.
NJBiz notes Schepisi was managing director of Clear Spring Capital Group, encouraging private investing for job creation.
She holds degrees in politics and psychology from Catholic University of America in Washington, D.C., and a juris doctor from Fordham University School of Law.