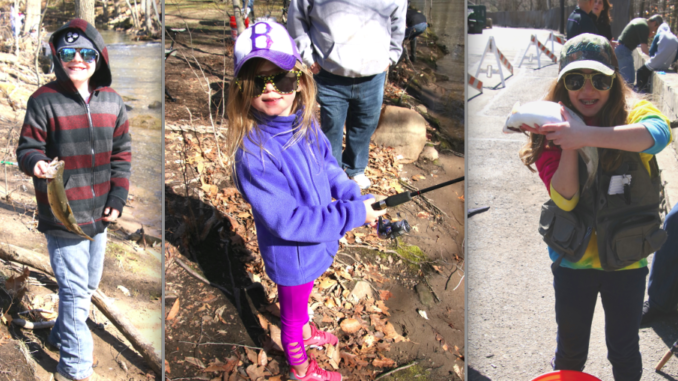 HILLSDALE/WESTWOOD, N.J.—The 27th Annual Kids' Fishing Contest sponsored by the Friends of the Pascack Brook will be held on Saturday, April 27 from 8 a.m. to 3 p.m., rain or shine.
Children 4–16 are invited to fish the Pascack Brook between St John R.C. Church in Hillsdale and Brookside Place in Westwood.
There is no advance registration or fee. In order to compete for trophies, prizes and other awards, all trout caught the day of the contest should be measured and recorded at the police booth in Hillsdale during contest hours.   
All club tagged fish caught will be awarded prizes during contest hours only.
Any child who wants to help stock the brook with fish should be accompanied by an adult and meet in the parking lot of the Hillsdale Library at 7 a.m. or the ball field by Brookside Place in Westwood at 7 a.m. the day of the contest. It would help to bring a clean spackle bucket to help stock with. Westwood Elks Lodge #1562 will serve hamburgers, hot dogs, and soda from 11:30 a.m. to 1  p.m. The address is 523 Kinderkamack Road. 
Anyone wishing to donate may send contributions to Friends of the Pascack Brook, P.O. Box 84, Hillsdale, N.J. 07642.