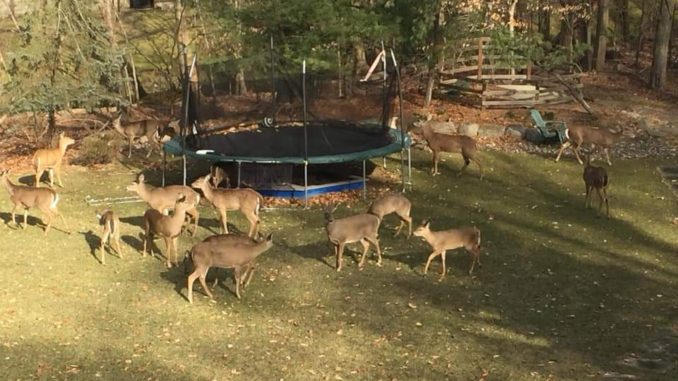 RIVER VALE, N.J.—A township-funded deer drone survey conducted in late April by academic researchers found 546 total deer over four nights of surveys covering the town's 4.1 square miles plus an adjoining 1.5 square mile area. 
That equates to about 96 deer per square mile in River Vale with deer densities appearing evenly dispersed town-wide, the survey said.
"The results from River Vale Township in 2019 show deer densities to be far higher than historical levels, statewide averages, and densities needed to maintain ecosystem health," the report states. 

The survey researchers said an optimal deer density is about 10 deer per square mile —leaving the township with an excessive amount of deer.
The researchers said the survey—done over four nights in late April—was "after a period of peak mortality for deer (winter and hunting) and before the birth of fawns in late spring" meaning results are conservative.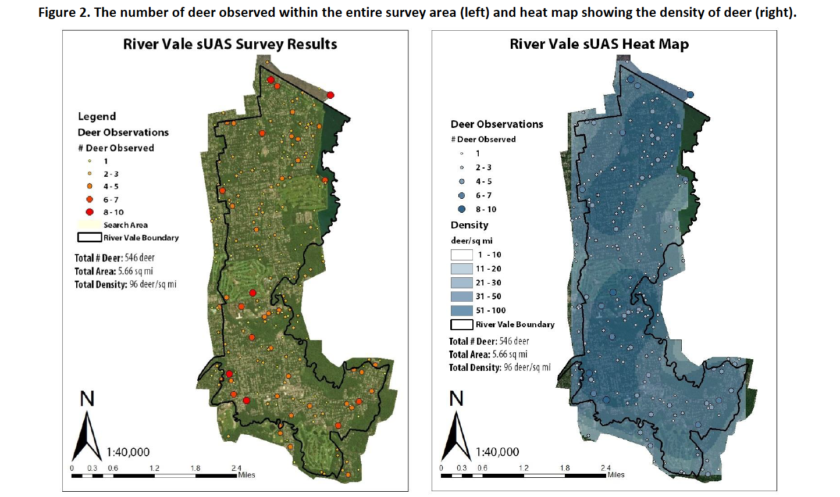 As female deer regularly have two to three fawns per year in North Jersey, the report notes, "it is likely that the actual deer population size for the majority of the year is much higher than the survey results indicate," says the May 28 report.
The report notes a goal of about 10 deer per square mile for towns to maintain a healthy ecosystem and minimize social and economic costs. 
It says "effects of overabundant deer … cost millions of dollars"  yearly due to deer-vehicle collisions, crops and landscaping damage and impacts from Lyme disease and other tick-borne diseases.
Officials could not immediately say how the deer census results would factor into goals for a proposed bowhunt but that was one reason members gave for conducting a survey.
The Township Council hired Raritan Valley Community College professor Jay F. Kelly and assistant Jessica Ray April 22 for $3,367 to conduct a deer census after members unanimously approved a bowhunt at a March meeting.
The four-page report includes five graphs or charts and cites 17 academic studies as references. It does not recommend any lethal or non-lethal options for deer population control.
Mayor Glen Jasionowski cited the deer census results at an Englewood deer forum June 5 attended by public officials and animal-protection advocates.
Recently the mayor "paused" the council-approved bowhunt to receive more public input and members may discuss the census and hunt at the June 10 meeting.
Council messages River Vale residents
Meanwhile, ahead of the meeting, the town council emailed its summary of the deer debate to constituents. The June 7 message is being reprinted here in full:
A Message from the Mayor and Council
June 7, 2019

Dear River Vale Residents,

Over the past few years we have all seen and experienced the impact of a rapidly growing deer population in our town. We, the Town Administration and Town Council, have been receiving increasing numbers of complaints from town residents detailing the concerns and public safety issues resulting from the expanding deer population. We have spent the last two years painstakingly investigating and researching this issue in an attempt to understand its impact and have explored potential solutions to the problem. In light of the recent alarmist and misleading mailer from the Animal Protection League, we would like to help set the record straight with the facts as we have come to learn them from reliable and scientifically based objective data and sources. We respect all opinions and have been receptive and understanding of all viewpoints. Ultimately, we, as your elected officials, must make decisions that will positively impact our town as a whole and provide for the safety and health of our residents.


THE PROBLEM
The White-Tailed Deer population in our town and the surrounding Pascack Valley has been estimated to be doubling on an annual basis. This is due to a number of factors, including an abundance of food (take note of your landscaping damage), a lack of natural predators, and Does giving birth to an average of 2 fawns every 9-12 months. Experts report that a tolerable "healthy" number of deer is 8-10 per square mile.  Per a recent study, River Vale has 96 deer per square mile.  The number of deer-related motor vehicle accidents in River Vale has increased alarmingly from only 2 in 2002 to 50 in 2018. Municipalities report a reduction in deer-vehicle accidents when the local deer population is reduced.
https://www.cleveland.com/metro/2018/03/deer-vehicle_collisions_declin.html

The open spaces and woods in River Vale have been overgrazed and are essentially "deserts" with only mature aging trees and barren ground remaining. This impacts many wildlife species and has severely damaged the ecosystem of our open spaces. Additionally, the rate of Lyme disease and other tick-borne diseases has been on the rise. Statistics clearly bear this out.
https://www.cdc.gov/media/dpk/diseases-and-conditions/lyme-disease/index.html

In addition to the Deer Tick, other ticks such as the Lone Star Tick have expanded their range into the State of NJ and are known to use deer as one their primary hosts. Numerous scientific studies published in peer reviewed scientific journals have shown a correlation between the deer population and the number of ticks and incidence of Lyme disease in specific geographic locations. While other animals can carry ticks and contribute to the spread of Lyme disease as well, deer remain a primary, well-documented host.
https://entnemdept.ifas.ufl.edu/creatures/urban/medical/lone_star_tick.htm

https://entomologytoday.org/2017/09/28/could-reducing-deer-populations-reduce-lyme-disease/

https://academic.oup.com/jipm/article/8/1/25/4210016

https://www.ncbi.nlm.nih.gov/pubmed/25118409

The financial costs to homeowners due to destruction of landscaping and plantings have not been quantified but most residents share the frustrations of being unable to plant most ornamental bushes and flowers due to grazing damage by the deer population. Left unchecked, our current unhealthy and out-of-balance deer population will continue to double annually until their food supply is exhausted. Death from starvation is inhumane and a difficult thing to observe.

POSSIBLE SOLUTIONS
Various strategies and methods have been employed around the country in an attempt to reduce and control local expanding deer populations. These strategies range from laws prohibiting the feeding of deer and other wildlife, surgical and/or chemical sterilization, catch and relocate programs and controlled hunt programs to cull the local population. The Town of River Vale has already enacted a strong "Do Not Feed" Ordinance which is enforced whenever knowledge of offenses is brought to the Town's attention. Surgical and chemical (dart vaccinations of Does) sterilization programs are controversial and have been met with mixed success. Effectiveness of these programs requires an extremely high success rate in sterilizing an ongoing, high percentage of a population's female deer. These programs are costly, labor-intensive, of controversial efficacy, are not without complications, and perhaps most importantly, ARE NOT approved by the State of New Jersey.

https://digitalcommons.usu.edu/cgi/viewcontent.cgi?article=1141&context=hwi

https://wildlife.org/wsb-study-sterilizing-female-deer-doesnt-reduce-deer-populations/

Any deer management program REQUIRES state approval. The only time-proven and efficacious method of deer control is a carefully regulated controlled hunt, performed by licensed professional bow hunters utilizing very strict safety criteria and only in carefully selected areas which would not include private property.
https://www.state.nj.us/dep/fgw/pdf/govdrrpt.pdf

Professionally performed bow hunting is a safe, time-proven and efficient method of rapidly reducing a local deer population and is the ONLY program and method approved by the State of New Jersey. All licensed hunters invited to participate undergo background checks by the NJ Division of Fish and Wildlife for any prior violations. State statistics report there have been no bow hunting accidents statewide in the last 20 years. This includes controlled regulated hunts in densely populated towns. Local and national surveys document 71-74% of respondents support regulated hunting as a wildlife management technique. Safety of our town residents is, and always will be, our primary concern. Essentially, we as a town are limited to either doing nothing further that is meaningful to control the deer population or giving consideration and exploring the option of a controlled hunt performed under state and local law enforcement supervision. We believe that doing nothing is not in the best interest of our Town from a public health, safety and quality of life standpoint. "Passing the buck" down the road a few more years, although likely the path of least resistance, is not a very defendable position.

WHERE WE ARE AT
The Town of River Vale has recently contracted for and completed a thermal drone deer survey to obtain a good estimate as to our actual deer population. Click here for the preliminary results.  This data, in conjunction with analysis and recommendations from the NJ Division of Fish and Wildlife, will help provide us with the most cost-effective, practical and efficacious potential program to control our local deer population. Any decision reached will not satisfy all residents. Misinformation, unsubstantiated fear-mongering and emotional manipulation should not play a central role in reaching a practical and reasonable solution to the deer overpopulation problem. That activity will unfortunately continue. We welcome and continue to listen to all resident concerns and opinions. Ultimately, any decision must be in consideration of the best, most credible science available as well as what would be permissible under current state law and regulations.

Sincerely,
Mayor & Council, Township of River Vale