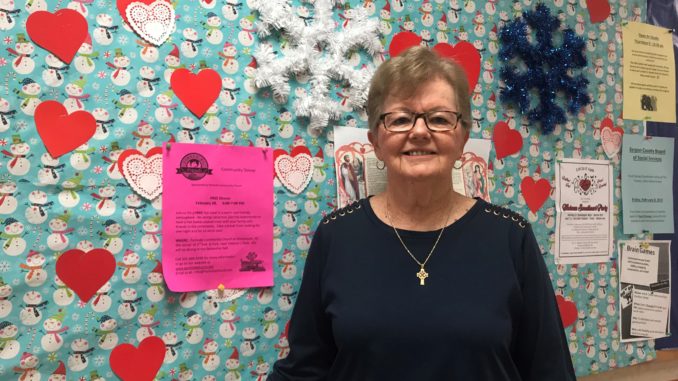 BY JOHN SNYDER
OF PASCACK PRESS
WESTWOOD, N.J.—You don't have to live in the Westwood House or the Borough of Westwood to enjoy the Thomas J. Riley Senior Center, 100 Madison Ave. Bergen and Rockland county residents are welcome.
Helping to make the center such a popular draw are its volunteers. Program Coordinator Marisa Tarateta tells Pascack Press that Betty Frasca is the volunteer of the month.
Frasca has been volunteering with the Thomas J. Riley Senior Center for more than three years and is a caregiver at heart. She told Tarateta that she is very happy volunteering at center, where she delivers meals to all homebound residents at the Westwood House every week.
She said her favorite part of volunteering is seeing the smiles on people's faces.
Born in Brooklyn, she has been a Westwood resident since 1971. She moved to New Jersey when she got married to her beloved, Robert, whom she says was a good man who worked very hard all of his life.
Frasca has two daughters and one son, and seven grandchildren.
"Her face lights up when she speaks of all her grandchildren," Tarateta said.
Frasca has many hobbies that keep her very busy, such quilting, gardening, and volunteering at her church, Our Lady of Good Counsel. She helps with CCD classes and is a Eucharistic minister. She also volunteers in Newark to feed the hungry.
In her down time—yes, she has some—she enjoys the occasional hot fudge sundae. "She definitely deserves it," Tarateta said.
Upcoming at the Thomas J. Riley Senior Center:
Tax Aide Program runs through April 11. Sponsored by AARP, this money-smart program is available for all seniors and others with low to moderate income. Free tax preparation, including federal and New Jersey returns. Volunteers are trained and certified to prepare tax returns. Make an appointment by calling the Thomas J. Riley Senior Center at (201) 666-3549. Free.
Nutrition presentation: Kathy Tigue, RDN, CDE. Tuesdays, at 11:45 a.m. Topics: Weight management, diabetes, and healthy eating options. Free.
Weaving Your Life Story: Past, Present, and Future. Open forum. Presented by creative arts specialist Molly Arney. Free.
For the Love of Bingo! Cash prizes. $15 donation covers four cards, food, soft drinks, and snacks. Call (201) 666-0840.
Brain Games With Natasha. Runs Thursdays at 2 p.m. Stimulate your brain with games and fun! Improve cognitive function. Free.
For more information, call (201) 666-0840 or visit tjrileyseniorcenter.com