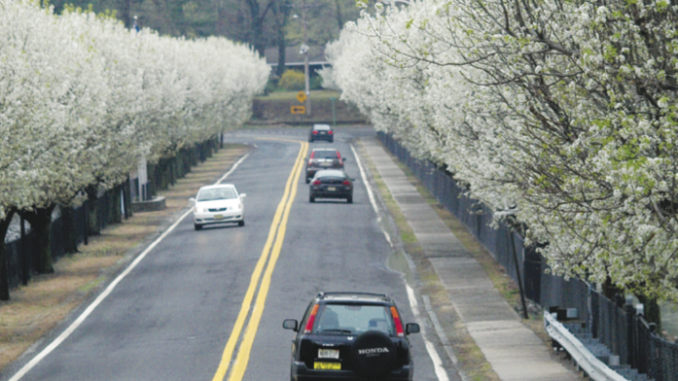 BY MICHAEL OLOHAN
OF PASCACK PRESS
PASCACK VALLEY AREA, N.J.—The proposed 20-foot-wide, 1.5-mile Woodcliff Lake Reservoir Nature Trail—which local leaders and residents are looking forward to strolling—cleared its state Department of Environmental Protection review last year.
Now it faces its final regulatory hurdle: a watershed impact review on April 2.
The state Watershed Property Review Board (WPRB), which vets land uses for areas near reservoirs, is composed of the commissioners of the NJDEP, and Department of Community Affairs (DCA) and the president of the Board of Public Utilities (BPU).

Mayors from the three towns that would benefit from the trail— Woodcliff Lake, Park Ridge, and Hillsdale—endorsed the effort years ago.

As they told Pascack Press in recent interviews, they're standing by for a final go-ahead to begin the improvements, including security features required by Suez North America, which owns the reservoir and the land where the path would be laid down.

When it opens, if all goes well, the trail will launch as a two-year pilot program, with options for three one-year extensions from Suez, as per an agreement signed by Suez and three municipalities.

The parties will meet bi-monthly to discuss issues. Suez will determine after two years whether to extend the program.

At opening, the season is to run April 1–Nov. 30. There will be no charge to access the trail and walk the reservoir path. Pets are not allowed, and neither is swimming, among other forbidden uses.
At Woodcliff Lake's January reorganization meeting, Mayor Carlos Rendo trumpeted NJDEP's approval and said he anticipated an early fall opening.

"Finally, we can call Woodcliff Lake 'Woodcliff Lake,' because we have the lake to enjoy," he said.
"I hope so, I hope this is the year," said Hillsdale Mayor John Ruocco March 7. "I cannot tell you for sure but we're all behind the trail and the documents were submitted early last year."
Rendo said that, if the WPRB signs off on the project, the towns are ready, willing, and able to commence work to open the long-discussed trail.
"They all want to get this going, especially [Park Ridge] mayor [Keith] Misciagna. If it's on the April agenda and approved, we can all begin to enjoy the trails this year," he added.
All trail costs will be paid by local governments. Both Park Ridge and Woodcliff Lake have received $15,000 state Green Acres grants to make the trails walkable. Hillsdale has also received a $24,000 Green Acres grant to develop its walking trails.
Through four surface supply reservoirs in New York and New Jersey, Suez North America provides water service to 500,000 people in Rockland and Westchester counties, New York, and 850,000 people in Bergen, Hudson, Sussex, Passaic and Hunterdon counties in New Jersey.
Its water supply network includes Woodcliff Lake and Oradell reservoirs, and Lake DeForest and Lake Tappan in New York.
Calls and emails to Suez for comment for this story were not returned by press time.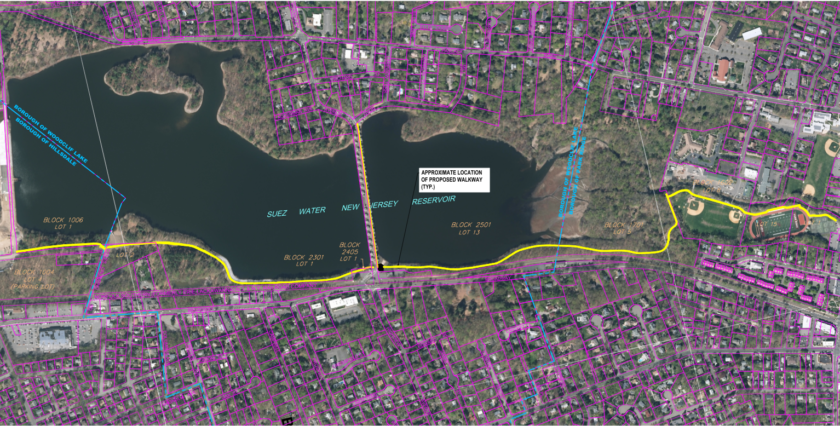 NJDEP approved trail
The project's next to last regulatory hurdle was cleared in late October 2018 when the state DEP approved the planned 20-foot-wide nature walking trail. It reviewed whether the proposal met conditions of a 2009 conservation easement Suez agreed to.
DEP's approval letter notes the conservation easement protecting the watershed property stresses the importance of using the land for passive and active recreation including public access and recreational uses.
The agency gave eight conditions for the trail to be built, including requiring state permission for any structures to go up and notice of any extensions of the pilot program.
Any trail improvements must be approved by Suez and remain Suez's property without requiring compensation.
The trail proposal includes automatic pedestrian gates to open and close on a schedule, security cameras at all gate locations to be monitored by local police, police patrols of nature trail in all three towns, and trash collection by each town.
The agreement prohibits dogs and pets of any kind, as well as bicycles, tricycles, skateboards, hover boards, roller skates, roller blades, "and/or anything similar."
Motorized vehicles, kites, drones, swimming, and picnics also are forbidden.
Signs will remind visitors not to harm vegetation or animals on the property.
Fishing will be allowed in designated areas only if an individual possesses a valid Suez watershed permit and state fishing license. Suez will enforce fishing regulations, the agreement notes.
The agreement states that Suez retains the right to close the nature trail at any time without notice due to operational needs, low water/drought conditions, fire hazard, high water and flood conditions, and security concerns.