BY MICHAEL OLOHAN
OF NORTHERN VALLEY PRESS
ENGLEWOOD, N.J.—The city's two top police officials got an earful—much of it negative—from about 50 residents who filled a community meeting March 11 called by police to focus on traffic, safety and crime concerns.
The meeting notice was issued on the borough's website three days prior to the community forum.

Following a recent double-murder and arrest of a suspect—plus criminal activity including three deli break-ins and robberies, a bank robbery, a liquor store robbery, recent home burglaries in 3rd and 4th wards, thefts of high-end vehicles, shooting of a pedestrian, and two car chases in 24 hours that ended in late February arrests—a community meeting was called on a few days' notice by the police department.

The meeting featured an informal question-and-answer session with city Police Chief Lawrence Suffern and Deputy Chief Gregory Halstead, who fielded questions on disparate topics from perceived police "rudeness" and speed limit enforcement to forming a community watch and recruiting more city residents as police officers.

Suffern said should residents experience an inappropriate response from an officer or dispatcher, either he or Halstead should be notified immediately.

Also in attendance were Mayor Michael Wildes, City Council President Katharine Glynn, who sat with Halstead and Councilman Wayne Hamer, who sat with Suffern. Councilman Charles Cobb and City Manager Ed Hynes attended the session.

Most citizens spoke without providing names but often mentioned specific city areas where problems such as speeding, illegal parking, and drug dealing occur.

Suffern said traffic complaints including speeding and parking were both top citywide issues.

He said officers check on an illegally parked car by checking the license plate/owner, and marking the tires to see if it moves in a 48-hour period.

If not, he explained the vehicle will be ticketed or towed, or both. He explained that a vehicle can only park in one place for 48 hours.

He said speeding will be monitored by a data recorder placed at a location where a speeding complaint was filed. He said that will determine what times speeding occurs, and often a message board may be placed to provide a warning to motorists to slow down.

He said a week later, officers will begin enforcement of speed limits.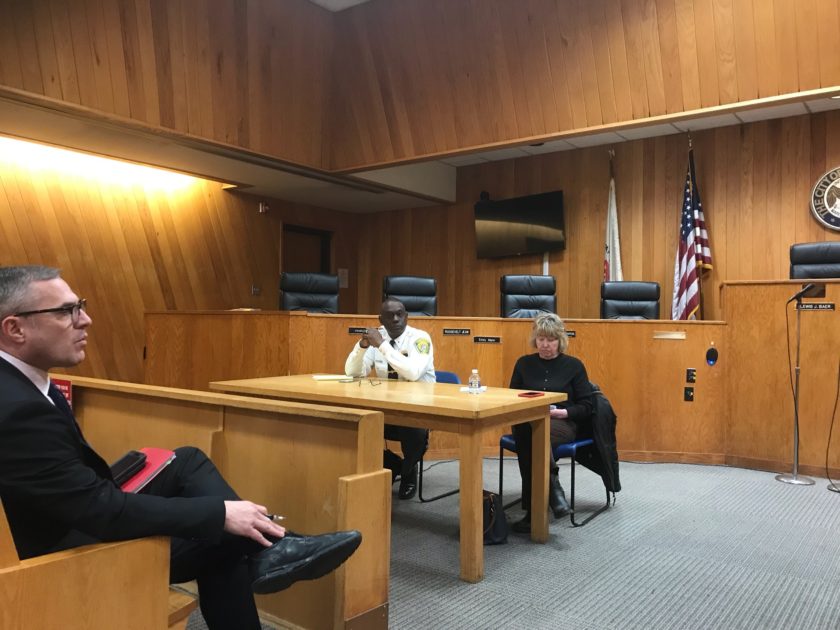 'Community policing'

Asked how he would address concerns about lack of police respect for residents, Suffern said training and education of officers in a community policing approach would help to address "quality of life issues as a whole" which will then be dealt with by the department.
When Rick Wilby, a frequent City Council critic, raised concerns about people not feeling they can come to police with a complaint, Suffern advised residents to get in touch with him or Halstead with specifics of a problem about how an officer or civilian dispatcher addressed a resident's complaint.
"We obviously want to make sure that the officers are performing their jobs as they're supposed to be and make sure that they're following the laws and regulations that are in place already," said Suffern to Wilby.
Throughout the two-plus-hour meeting, at least a half-dozen residents voiced concerns about negative police-citizen interactions marked by rudeness and lack of empathy, including exchanges with patrol officers and police dispatchers.
'Given the third degree'
"Citizens will not cooperate (with police) if given the third degree when calling," said one resident, talking about information demanded by dispatchers of callers.
Halstead said "if you ever experience inappropriate behavior, if an officer is short, curt, I want you to give me a call," he said.
Halstead handed out business cards following the meeting, and both he and Suffern continued discussing issues with residents following the meeting.
Halstead said residents can call anonymously and report a problem and they should be treated with respect. Halstead said certain information is generally required when calling but anonymous calls are also acceptable and help the police.
He noted that an upcoming community meeting in mid-April should address home security video recording technologies and how these may be used to protect homeowners and assist police.
Asked about large trucks idling for long periods on Dean and Engle streets, Halstead said Hynes was working with the department to minimize tractor-trailers idling for long periods on crowded city side streets. He noted police have reached out to city car dealers to reduce the idling time of trucks on local streets.
'Pleasant…isn't so pleasant'
A Pleasant Avenue resident complained she was told police were "changing shifts" when she called and nobody could respond to her illegal parking and speeding complaints.
Asked by Suffern where she lived, she said "Pleasant Avenue which isn't so pleasant anymore…if I had a dollar for every car that was speeding on that street that would pay my taxes. I'm not exaggerating."
When Suffern noted the deputy chief was working on the speeding issue, she said the problem continues. Suffern said he would speak to the traffic sergeant and request measures to reduce speeding along the street.
"If somebody gets hurt, maybe then they'll do something," she added.
Halstead said the last complaint made by the woman was checked and the truck was found not to be speeding.
'Obtaining resources'
Answering a question from former council candidate Horace Ragbir, Suffern said 75 officers are currently in the department, which is 11 officers short of peak staffing.
Suffern said "obtaining resources and training" for officers is critical to get officers trained for traffic enforcement and community policing assignments.
Several residents asked if Englewood could adopt a 25-mph speed limit citywide to reduce speeding but Suffern noted that would be difficult and also no local speed limit exceeds 35 mph. He said enforcement of speed limits was more important than having a single speed limit.
Suffern said deployments of police data recorders to assess speeding on local roads are based on complaints from residents, and following analysis of data recorded on vehicles, speeds and times of speeding, police patrols are deployed to catch speeders.
Suffern suggested community members get to know their neighbors because neighborhood groups or community watch groups can assist each other and police to know when something unusual is occurring.
Suffern said getting neighbors together as a group is important and police officials can talk with the group about better ways to protect their homes.
Curtis Caviness, a resident, said the department should deploy all under-used city police cars sitting in a municipal lot across the street throughout the city as a crime deterrent. "Drug dealers do not sell drugs when a police car is parked in front of them," he said.
Local hiring suggested
Asked about hiring more residents as police officers, Suffern said "we have been working on strategies to try and encourage a lot of local people to take the test."

Another resident noted at least 10-15 high school seniors who would be good future police candidates and encouraged the department to recruit at the high school.
Suffern said he would speak to the city public schools' superintendent.
Asked by Ragbir about how many residents took and passed a recent police exam, Suffern said he would have to check with human resources for the number.
Last summer, Northern Valley Press reported that only 20 of 107 police officers were residents, approximately 19 percent.
Suffern said the department hopes to host a forum in mid-April on personal safety, public safety, homeowner protection strategies and neighborhood watch.
Wildes urged residents to attend the upcoming safety forum and thanked Bulluck for suggesting it.
Bulluck called for "a concerted effort from all levels of government…We need actionable information…what we can do as individuals to make our respective homes and neighborhood safe and what we can do collectively to keep all of Englewood safe."
She said the turnout at the crime forum was indicative of a widespread interest in community safety.
Resident Chris Gagliardi encouraged residents to "retriple our efforts" to make Englewood a safe city once again.
Hamer called the meeting "a starting point…this is important for us to hear. This dialogue needs to continue…and not just for this subject," he added.
He said he had taken four pages of notes and suggested other forums to address topics such as hate crimes.
City's 'eyes and ears'
Wildes later said "community engagement is everything…more important now than ever."
"There are citizens here standing ready to serve as the eyes and ears of the community," he added, noting the hiring of more officers would help to make the city safer.
Glynn said later she learned "how common the concerns are across the city" including traffic problems such as speeding and parking.
"That suggests to me that we can work together to solve them as a community because it's not a personal problem, it's a community problem," added Glynn.