BY TOM CLANCEY
OF NORTHERN VALLEY PRESS
NORTHERN VALLEY - Several construction projects are expected to impact motor vehicle travel in the region starting Monday, Oct. 3.
As we reported last week, Harriot Avenue in Harrington Park and surrounding streets will be intermittently closed as Public Service Electric and Gas Co. (PSE&G) conducts a gas line replacement expected to be underway through December.

Officials recently announced that CSX Transportation will be conducting rail crossing replacements at Old Hook Road in Closter and Broadway in Norwood. The replacements will occur on CSX's mainline, a major rail shipping line that enters the Northern Valley at Northvale and traverses

Norwood, Harrington Park, Closter, and Haworth before continuing south.

CSX spokesman Rob Doolittle told Northern Valley Press the two closures are part of a long-scheduled maintenance plan and that work at each crossing is expected to close the roads for three to four days total.

---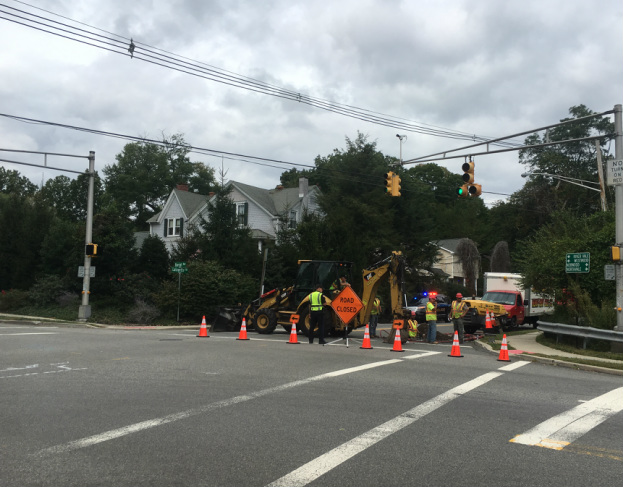 PSE&G crews work to replace a gas line in Harrington Park on Wednesday, Sept. 28 at Lafayette Road at Harriot Avenue. It's one of several projects expected to impact motor vehicle traffic in the coming days. (Photo by Tom Clancey)
---
---
"Our crews will complete these tasks as quickly as safety allows," Doolittle said. "At each crossing, the railroad tracks will be removed and new tracks will be installed, and then the approaches and crossings themselves will be repaved."

Norwood Police warned residents to avoid Broadway's crossing starting Monday, Oct. 3.

"Please use Blanch Avenue to Lohs Place if going towards Old Tappan. Another route is White Avenue to Orangeburg Avenue in Old Tappan," Norwood Police said in a public message.

Closter Police initially said on Facebook that the CSX project would be postponed due to the projects in the region, including a major

Kinderkamack Road widening project in nearby Emerson

, that's snarling traffic in that area.

"We determined that adding an additional road closure would adversely impact the public safety of our residents and commuters," Closter Police wrote on Facebook.

Later, after a sign appeared at Old Hook Road announcing the closure would be proceeding, the department wrote: "CSX has decided to move forward as they see fit."
Old Hook Road is a primary east-west thoroughfare that traverses the Oradell Reservoir.

"CSX understands that closing the crossings to complete this work has an impact on the public, and we apologize for any inconvenience it may cause," said Doolittle, the CSX spokesman. "We have communicated previously with community officials about the plans to conduct this work and regret that other projects are going to inconvenience the public at the same time."

The maintenance projects span from 40 miles of mainline tracks in northern New Jersey into New York state near Haverstraw.

"As part of CSX's regular infrastructure investment program, we schedule teams of workers to move through a length of track to replace ties, refresh ballast, resurface rails and perform other essential maintenance tasks," said Doolittle. "At the same time we attempt to schedule rehabilitation of grade crossings in those areas, so the work can be done concurrently, for efficiency's sake and to minimize the disruption to communities.

"That's what has occurred here, and is determining the schedule for reconditioning these crossings."

---