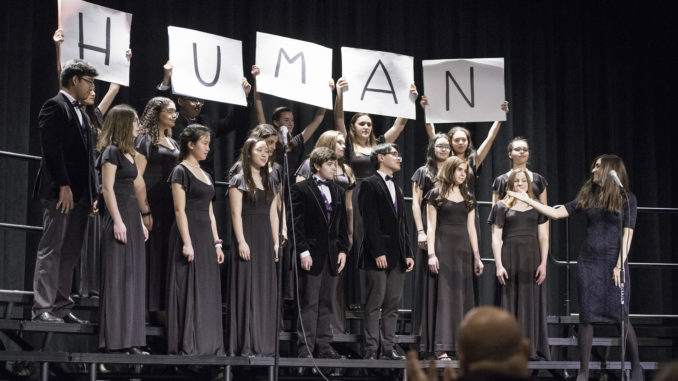 BY JOHN SNYDER
OF PASCACK PRESS
HILLSDALE, N.J.—Montvale, Hillsdale, Woodcliff Lake, and River Vale came together in celebrating Unity in the Valley, a kick-off event with far-reaching goals, highlighting the importance of unity and inclusivity throughout our community.
Highlights at the packed event March 19 at Pascack Valley High School included performances by Pascack Valley Regional School District students, messages of unity, a presentation by the Anti-Defamation League, and a keynote address by New Jersey Attorney General Gurbir Grewal.
Launched in 2018 by area municipal leaders, along with support from the superintendent of Schools for the Pascack Valley Regional High School District, Unity in the Valley has grown to include a cross-section of religious leaders, student groups, law enforcement, and volunteer organizations.
Unity in the Valley says it's composed of community leaders in the Pascack Valley united in their opposition to all forms of hate and aggression toward any group or individual.
Its mission is to help build tolerance and understanding for all through education in order to foster a safer, more accepting community.
Meanwhile, The Hills/Valley Community Coalition invites parents and their teens to an education program, "Growing up OVERexposed: Helping Teens Navigate in a Hyper-Sexualized Digital World," on Wednesday, April 3 at 7 p.m. at Pascack Hills High School.
The program features keynote speaker Lauren Hersh, founder and national director of World Without Exploitation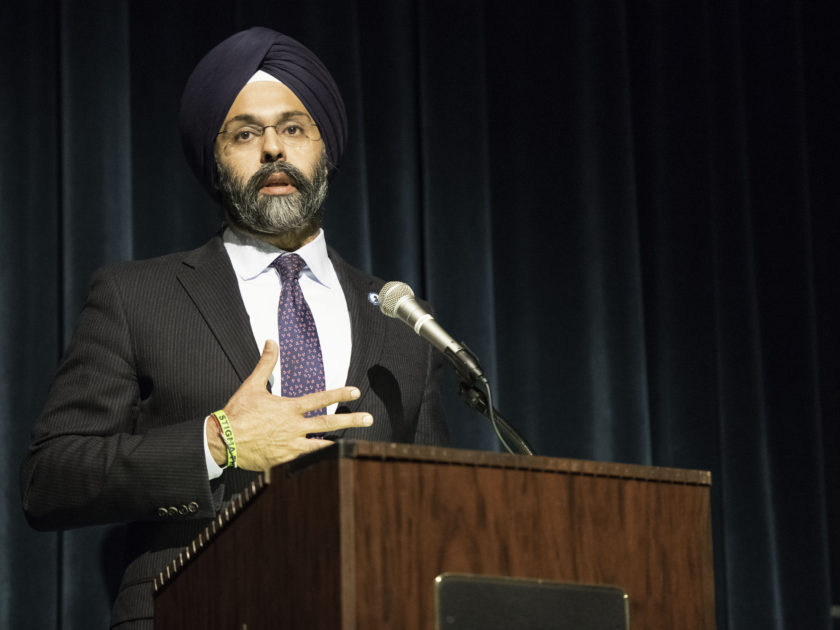 Grewal: 'Hate against one community is hate against all'
At the March 19 Unity in the Valley kickoff event, one highlight was the keynote by Grewal, a Sikh, the state's 61st attorney general and the nation's first Sikh top cop.
In his address, Grewal—who was raised in Westwood and the Township of Washington, said that as attorney general he is "committed to using all of the tools of this office to protect those in danger."
Calling out recent acts of hate-based vandalism in New Jersey, including in local schools, he said, "We must treat an act of hate against any one of our communities as an act of hate against all of our communities."
He added, "We must also push back when the federal government fails to protect all of its residents or when it pursues half baked policies that do nothing to make us safer. It's not just the federal government—we must also hold our local governments accountable."
Grewal, named to his post by Democratic Gov. Phil Murphy, has been the object of hate and outspoken ignorance for his religion and his cultural garb. He said he has been accused of being a terrorist and told he should "go home."
Before rising to AG, Grewal was Bergen County Prosecutor for almost two years. He was an assistant U.S. attorney in the Criminal Division of the U.S. Attorney's Office for the District of New Jersey and for the Eastern District of New York. He began his legal career in private practice.
As Bergen County prosecutor, Grewal made combatting the opioid crisis a prime law enforcement initiative.
He said messages of hate are "no longer being confined to the dark corners of the internet; they are now being said in our public squares," and called for vigilance and compassion—and for love to set an example.
In July 2018 disc jockeys mocked him on air as "turban man." They apologized and were suspended.
"It's not the first indignity I've faced and it probably won't be the last," Grewal said at the time.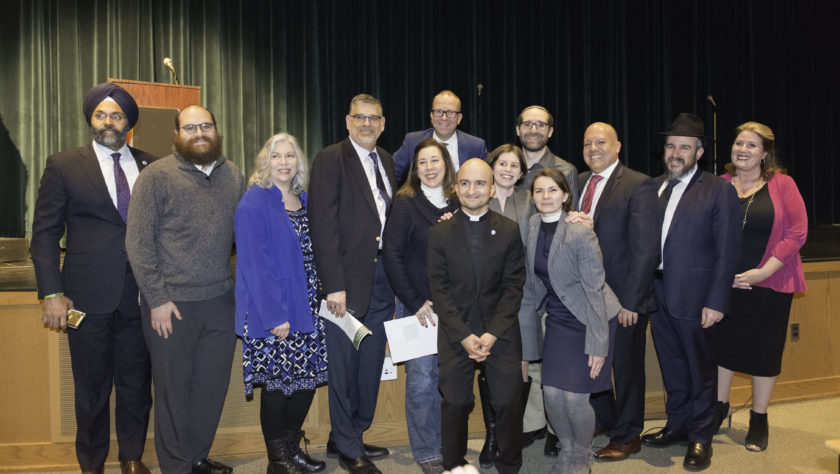 Ghassali's family has suffered
Montvale Mayor Michael Ghassali, who is Syrian-American and president of the Pascack Valley Mayors Association, spoke of his and his family's experiences as targets of corrosive hate and bias, explaining that it is a crime.
He said ISIS terrorists killed one of his cousins in 2015, and recounted horrors of the 20th century, where 1.5 million Armenians and 600 Syrians were killed in 195 over their faith and nationality, and 6 million Jews and others were killed in the Nazi Holocaust between 1941 and 1945.
"As recent as the last few years, 500,000 Muslims and Christians were killed in Iraq and Syria because of their beliefs. We stand here today to declare that we will not stand for hate in any form and toward anyone," he said.
He said students had the hopes of the majority with them for a better future. "I promise you we are here to cheer you on," he said.
P. Erik Gundersen, superintendent of schools, gave welcoming remarks on the theme of unity and inclusivity in a time when hatred has easy expression.
Pastor Marc Stutzel of Christ Lutheran Church gave the invocation. Rep. Josh Gottheimer, D-Wyckoff, sent congratulations and support by video. Rabbi Debra Orenstein of Congregation B'nai Israel spoke on the power of setting intentions.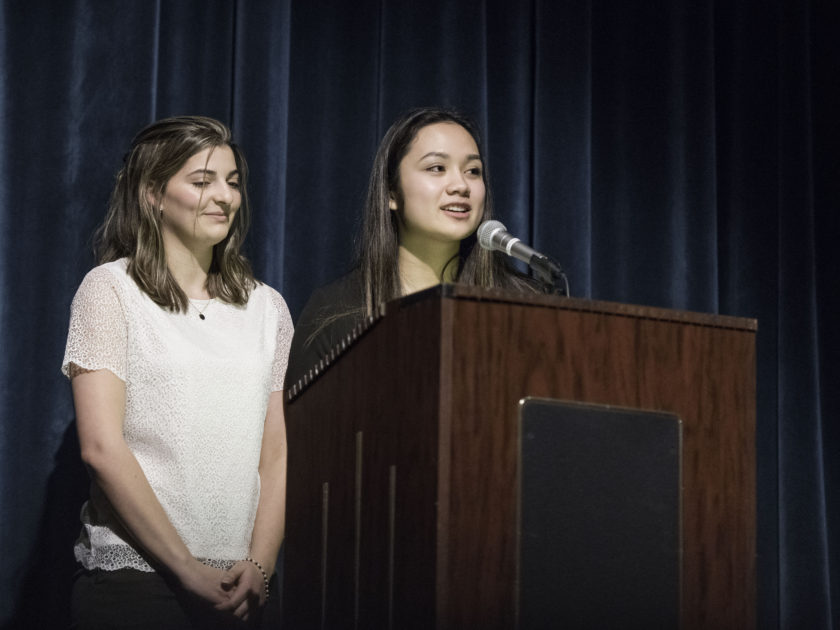 Students press the message

Pascack Valley seniors Bianca Belmonte and Samantha Nicklas, presidents of the school's Human Rights League, called on audience members not to back down from hate but rather to act for good.

As reported in The Smoke Signal, the students' news outlet, "We became infamous for publishing an opinion piece…that addressed the racism and bigotry going on in our school," Belmonte said.

"It was the Human Rights League that ripped the Band-Aid off the wound [referring to hateful vandalism] and acknowledged what was happening. But unfortunately, that wound is still blistering," she added.

"We didn't want to say that we've moved on and everything's in the past and that it's all better now. We wanted to be as real as possible and address what is really going on in the school," The Smoke Signal said they added.

(For the record, The Smoke Signal's multimedia coverage of this event, including voices from the community, arguably deserves an award. Check it out online.)

Among those representing the high school's Gay Straight Alliance were Beck Kerdman and Reece Ferrentino.

The Anti-Defamation League sent its New York and New Jersey regional director, Evan Bernstein.

Senior Madison Gallo led an exercise having attendees write down the name of someone who has done something to change their course in life, showing the power of one person making one decision.

State Assemblywoman Holly Schepisi (R-River Vale) was among many area officials to attend.

She said online afterward, "We must all work together across party lines, religious beliefs, ethnicities, gender, sexual identity to stop hate and intolerance in all forms. As a local leader I pledge to continue to speak out against hate and work within our communities to prevent further hate crimes and incidents."

The National Anthem was performed by the Pascack Hills and Pascack Valley Choir. The One Spirit Club was represented by Rachel Cohen, Olivia Jones, and Isabella Tjan, among others.

Closing prayer was by the Rev. Larissa Romero of Pascack Reformed Church.